Dozens of adult volunteers fanned out across the city Wednesday, Oct. 19, to offer Portland public high school students a glimpse of what awaits them after graduation in the world of work.
At career assemblies held on Portland Public Schools campuses, students spent the morning learning about a variety of careers, ranging from healthcare, high tech and public safety to architecture, construction and engineering, plus many more.
Students could choose from a menu of breakout sessions, resume building workshops, mock interviews or college presentations, all designed to pique student interests in possible careers.
"How do you become a firefighter?"
"How many years does it take to become a nurse?"
"What do you love about your job?"
These and other questions surfaced during Q&A sessions in classrooms, auditoriums, cafeterias and gymnasiums.
PPS schedules the assemblies each fall as part of a districtwide effort to encourage career exploration. Career coordinators take the lead in organizing them.
Like other Oregon school districts, PPS also is adding state-approved Career Technical Education (CTE) classes to course offerings at each high school.
Portland Workforce Alliance works with schools and employers to organize experiences such as Career Days and the annual NW Youth Careers Expo. PWA also supports mentorships and helps with on-campus needs such as volunteer recruitment and industry connections.
At Grant High School, Principal Carol Campbell encouraged juniors and seniors to "open your mind" and explore things that "might be different from what you think you might be interested in."
Kevin Jeans Gail, executive director of Portland Workforce Alliance, urged Grant students to take charge of their future and have a plan of they might like to do after high school.
At Franklin High School, temporarily relocated to the Marshall High campus while their school is being remodeled, students crammed into the school library to hear a panel of speakers on careers in Law, Law Enforcement and Public Service.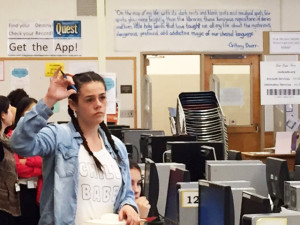 Bria Dixson, a freshman, asked a Portland firefighter, "Is the job emotionally draining? If so, how hard is it?"
Dixson said after the session that she's interested in firefighting as a possible career.
"I like how physically demanding it is," she said, "but I also want to know I'm doing something to help people."
Volunteers give a glimpse of their work during Career Assemblies Day