The longest-serving member of PWA's governing board showed up at this month's board meeting in blue jeans, long-sleeved shirt, black-and-white Nikes — and a broad smile befitting someone newly retired from the athletic apparel and footwear giant.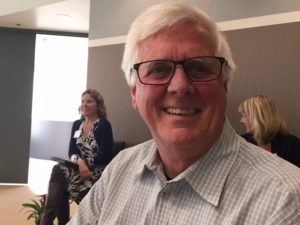 It's what you'd expect from JR Gustafson, both in terms of dress and demeanor. Gustafson has served on the Portland Workforce Alliance board since 2008, including a term as president in 2014-15, and is widely known for his upbeat personality and generosity. During his tenure, he has sought to leverage his employer's considerable resources for the benefit of public high school students in the Portland metro area.
Though recently retired as director of operations at Nike's Merchandising Center, Gustafson continues to serve on the nonprofit PWA board. During the group's Nov. 14 meeting, he spoke about his Midwest roots and lifelong passion for public schools.
Personal:  Gustafson, 65, was born and raised in Des Moines, Iowa, and graduated from the University of Iowa with a liberal arts degree. The product of a family of public school teachers, he attended public schools from kindergarten through college, and married a public school teacher. He and his wife of 41 years, Carol Ramsey, sent their two children to public schools in Portland and they remain active in the Grant High School community.
Fun Fact #1: Before joining Nike in 1980, Gustafson worked as a manufacturer's toy representative and a journeyman meat-cutter. ("I'm still a member in good standing of the Meat Cutters union," he says. "I'm going to be the guy at New Seasons who cuts and wraps your chicken and tells you how to cook it.")
Fun Fact #2: Though christened John Philip Gustafson Jr., he's been known as "JR" since childhood. The initials refer to "Junior."
Involvement with PWA:  "I've had a variety of roles. My primary responsibility and duties were to connect the vast resources of Nike to the needs of the public schools. I live in Portland, I pay my taxes, and I am still involved as an active parent. This is a way to connect my passion for public schools with the reality of their needs."
Helping students: Gustafson has helped organize PWA Career Days at Nike's Beaverton-area world headquarters, recruited co-workers to be classroom speakers and volunteers at the NW Youth Careers Expo, and helped secure Nike's sponsorship of both the Expo and annual PWA Breakfast.
How I want to strengthen the organization and help PWA grow:  Gustafson is mentoring younger Nike employees who want to become involved with PWA while continuing as a member of the board's executive committee, overseeing strategy, governance and finances. "The truth is, public schools need a lot of help and this organization is a really good way to help."
Meet a PWA Board Member: JR Gustafson